On May 31, 2022, DEHA SOLUTIONS orchestrated a grand affair to celebrate its remarkable five-year journey, a momentous occasion that allowed us to extend our heartfelt gratitude to our cherished partners – customers and dedicated employees who have been steadfast companions throughout this incredible voyage.
Under the resonating theme of 'Together Next,' this event conveyed a poignant message of appreciation to DEHA's invaluable partners, including our esteemed customers and hardworking staff. The essence of this theme signifies DEHA's unwavering commitment to persistently stand beside and support our partners as we venture into the future together.
The event's centerpiece was the address by the Representative Director, Pham Minh Hung, who eloquently summarized DEHA's outstanding achievements over the past five years. With a touch of nostalgia, he shared the pivotal milestones in DEHA's developmental journey and spoke of the company's evolving maturity. Beyond the realization of our ambitious five-year goals, he underscored DEHA's unwavering dedication to knowledge enrichment, delivering ever-improved services to our valued customers, and the continual pursuit of self-improvement.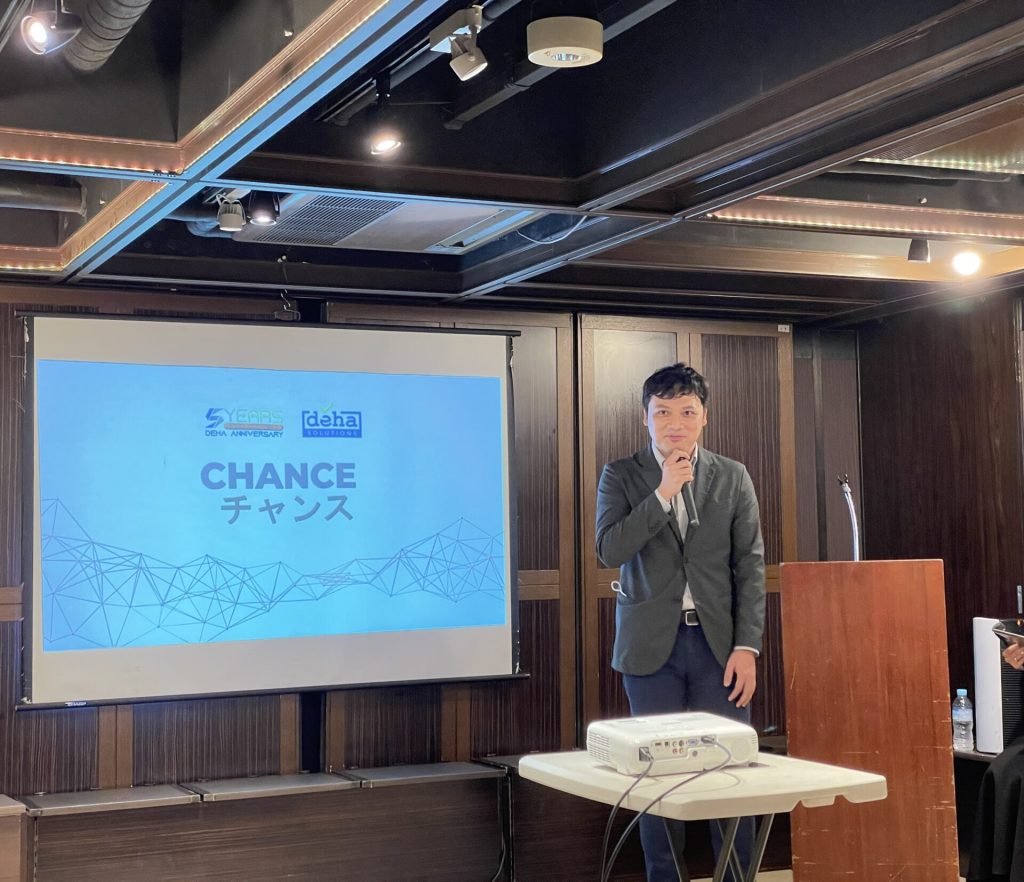 As a highlight of this memorable gathering, DEHA proudly unveiled a brand-new department within our corporate structure. Takeshima, our Sales Manager and the harbinger of this innovative development, illuminated the rationale behind the establishment of the new AM department, elucidated its organizational framework, and painted a vivid picture of its future operational endeavors.
Amid the festivities, DEHA was inundated with gratitude and congratulations from customers who have been loyal partners since the company's inception. One particular patron, showcasing their exceptional bond, was invited to compose and perform a heartfelt musical piece on an acoustic guitar, creating a magical and unforgettable performance that touched the hearts of all in attendance.
DEHA is deeply thankful for the resounding success of our anniversary celebration. While five years may appear as a mere blip in the life of a business, for DEHA, a spirited and ambitious startup, this journey has been nothing short of transformational. We attribute our growth and resilience to the unshakable trust and unwavering support of our cherished customers and dedicated employees. As we reflect on the past and gaze towards the future, DEHA remains committed to evolving, growing, and emerging stronger, with an enduring spirit of gratitude.
In conclusion, the message resonates with sincerity – a heartfelt 'Thank You' to all those who have been part of this incredible journey, as DEHA looks forward to a future full of promise and possibility.
With gratitude and warm regards,